Nowhere But Here (Thunder Road, #1) by Katie McGarry
According to Cartoon Network televisions series "Power Puff Girls", sugar, spice and everything nice is the recipe to create the prefect little girl, then Katie McGarry is the the physical representation for Chemical X. To put it simply Katie McGarry is just a knock out genius of a writer. She's the sweetest author I ever meet and I would literally travel in a car with my entire family to drive 4 hours to meet her. What's so amazing is McGarry is some type of saint to wait for a long distance fan to arrive. It's no surprise that her book, "Nowhere But Here: Thunder Road #1" contains examples of how genius her writing is. The book contains nothing but raw dialogue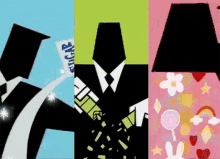 , endless witty banter, and a basket of emotions that would make you think the book is  published by Kleenex rather than Harlequin Teen. My hardcover edition of "Nowhere But Here" is about 460+ pages, yet I didn't feel like I was reading instead I felt like I stepped into natural stream of imagination with places/characters I could easily call friends. I though getting to meet McGarry, once at RT Los Vegas, and again at Grand Forks was a treat, but I promise you the real treat is reading her novels. I guarantee you it's that good.
Ya'll should know by know I love my men  dangerously good-looking and completely flawed. This is why I can't stop fan-girling over Rhys from Sarah J. Maas A Court of Thorns and Roses series, or Roth, the Demon Prince of Hell from Jennifer L. Armentrout series The Dark Elements, well step aside bow there's a new swoon coming into town and his name is Oz.
Who is Oz based off of? Is this person honestly, a fictional character because I really need to know . . .for sciences of course. You're probably wondering, hmmmm Lia wow gorgeous is Oz,anyway? The answer is, DROP DEAD GORGEOUS duh! How dare you even ask such a question! Oz's didn't earn my swoony heart by being devilishly handsome but for the fact that he' the kinda of guy that you wanna love since he's so raw.
There aren't a lot of false projected images to Oz. This is especially not the case for the readers nor for the female, yes I said female protagonist Emily. What I love most about this book is that it truly steps away from the stereotype that is usually seen when reading contemporary romances novels, especially in the genre of young adult. You know what I'm talking about. It's the stereotype that feels like authors or publisher/editors are reading a step by step guide on "How to be a James Dean/Marlin Brando Bad Boy". I love the 1955 film Rebel Without a Cause  featuring original anti-establishment teen heart-throb James Dean like everyone else. I already have to commit that I'm going to see his photographic presences constantly carbon copied on ever celebrate to date, I don't need to read about it too. That style of writing only loses admiration from the readers because the character now has an un-relatable and illogically course of action. This is what surprised me, delighted me, and yet tripled thrilled me all at the same time.
More importantly let's talk about the romance. I love romances. I REALLY love romance. Don't believe me? I have a knuckle tattoo that says, THAT'S RIGHT YOU GUESSED IT: Romances. SO believe me when I tell you that the romance held between the cover, pages, scenes, the moments between the characters. The dialogue is work it's own weight in chocolate!
"You're beautiful," I say, and the honesty of my words stings. "You're beautiful inside and out. I like how you challenge me. I like how I can never figure out what you're going to do or say. I like how we've thrown weird shit in your direction and you take it like a pro."

I cup her face with one hand and caress her soft skin. "I like how you smile and how you laugh. I like how you love and defend your family and I like how you're trying to love mine. I love how you trust. But mostly, Emily, I like how I feel when I'm around you."

Shit. My heart bursts as the words tumble out. "I'm falling for you.
Ahhh you guys! It will literally have you staring at McGarry photo asking it, why she created such amazing scenes! Why do this to my heart! ohhh my poor heart! Book boyfriends be damn, the romance in this book is amazing. Katie McGarry's romance is worth it's own swoon category! There are so many features within this book that illustrate the tone, syntax of characters speech structure, character development as well as character relationships towards other characters as well as creating a connection towards readers, yet the life lessons!
Ohhhhh Katie McGarry has such an amazing ability to create beautifully constructed words that wrap themselves around you like you're favorite sweater, delivering comfort and security like no other. He words feel like a hug to the heart.
"Nowhere But Here" is a story of learning, running towards, running away, looking to the future, wanting what you want and believing you're meant to have it. It's about hard lessons, love life, family, and leaving the past in the shadows behind you. It's amazing! A-M-A-Z-I-N-G
And you should go read it now!